District Notice
All Classes Cancelled Indefinitely
For more information click here.
For a list of FAQ's for parents click here.
Principal's Message - March 26, 2020
Principal's Message
Who could have known my words from earlier this month would have held so much truth then, could be even truer today?  In the March newsletter I wrote, "Bricks and mortar are not what makes a culture of learning and kindness...our school building is not our learning community…..our people will be the same...just operating in a different place…"
This past week or so has shaken up our world for each and every person of our Condor School community. Students, parents and staff have suddenly been confronted with significant life changes that have had huge impacts on our lives.  
My thoughts go out to our students and the fact that they left school so abruptly without the chance to say farewell to their friends and teachers.  The building that was one of their safe places now sits empty and eerie echoes fill the hallways. The routines that had become part of their lives are on hold for now and all of this makes me tremendously sad.  
My thoughts are with parents and grandparents whose lives have also been changed so suddenly.  Raising children in uncertain times, navigating changes, worrying about family health and the economic impacts will challenge even the strongest people.  There are no words to express the impact this is having on families and we know everyone is doing their best to make the best of this situation. Please be gentle with yourself and your children; everyone is just figuring this out….it will take time.  
My thoughts are also with my staff members.  They are also experiencing so many of the same pressures and emotions that everyone else is feeling.  They also are missing their students and the relationships they have with the kids they work with each and every day.  Last week was a whirlwind as staff worked to get student belongings ready. After that, there was the almost non-stop onslaught of information to digest, planning on how to adapt teaching for outside of the school walls, and practicing social distancing at work.  It was all hands on deck as every staff member has chipped in with helping hands at every opportunity possible. We are so blessed to have such a dedicated, caring staff. It warms my heart to see the willingness of everyone to work with this new reality.  
As much as this has been challenging for students, parents and staff members, I truly have been astounded by the goodness, kindness and cooperation that I have witnessed.  Parents, thank you so much for your cooperation and understanding and for taking on the difficult task of supporting your children while teachers try to adapt learning to suit this new reality.  Please maintain contact with your child's teacher and please reach out for support you need. I would urge you to contact me via email also if there is anything I can do to support you and your family.  I will be calling families and would like to be able to chat with students and let them know we are all working for them and thinking of them. I feel so connected to each and every one and genuinely care for their well-being.  If you are experiencing challenges, I would appreciate the opportunity to help and trouble-shoot as we know there are many wrinkles that need to be ironed out.  
So….where do we go from here?  We keep putting one foot in front of the other. We make positive choices.  We take care of one another and we stay positive even when the going gets tough.  We cross our fingers that this is over quickly and in the meantime we remember to find reasons to smile.   
Cheryl Kalev
Principal
Condor School
A Message From Our Family Wellness Worker
"I'm sure there is a lot of stress and anxiety out there with all the changes we have been seeing throughout our country and the rest of the world.  I'm happy to help you in any way I can until things resume back to normal.
I am available to talk to kids and parents through a variety of ways such as text, email, phone call, or video chat.  I'd be happy to help people track down avenues of support, provide up to date information, send online resources, or just be an ear for anyone that needs it."

My contact information is as follows:
Text / Phone Call - (403) 846-6465Email
Video Chat (Google Hangouts) - kelsey.rocque@wrsd.ca

Kelsey Rocque
B.A. Psychology
Family Wellness WorkerDavid Thompson High School, Condor School, & Leslieville School
Wild Rose School Division
2020-2021 ECS REGISTRATION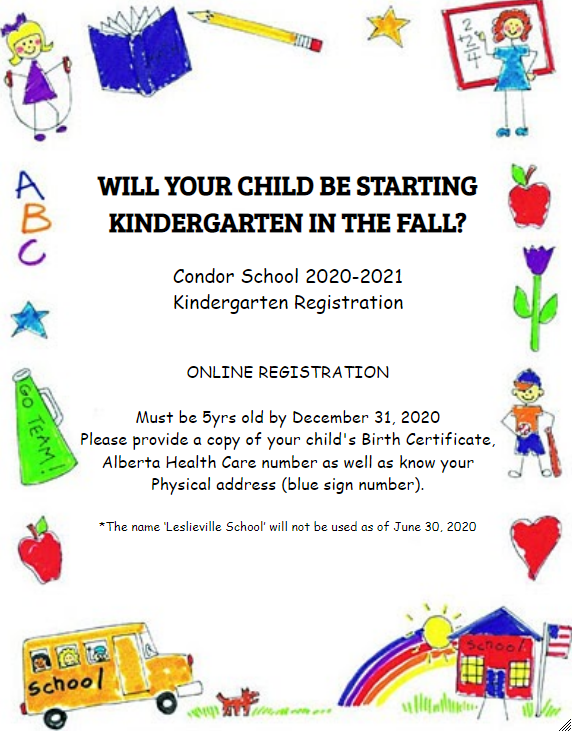 ECS ONLINE REGISTRATION PROCESS
Due to the current situation next year's ECS registration will be completed ONLINE and through email until further notice.
If your child will be attending Kindergarten in the fall please print off and fill out the ECS Registration Form below. If possible please scan the registration form as well as your child's birth certificate and email them to either:
sherry.mailer@wrsd.ca or chantel.taylor@wrsd.ca
As well, please complete the Busing Request Form online.  The Busing Request Form will go directly to our transportation department.
If you have any further questions please do not hesitate to call or email Sherry @ Condor School 403-729-3868 or Chantel @ Leslieville School 403-729-3830.
ECS Registration Form
2020-2021 ECS Registration Form
Busing Request Form
https://docs.google.com/forms/d/e/1FAIpQLSdFMlSJ1DRoxEMxmIS6kV9fU54KqZCQc8Yg94WcsRqZeS6XSw/viewform?formkey=dDFTZE9uVDVaSUtzZUw1V3k2WHdYUFE6MQ&fromEmail=true
MARCH 2020 CONNECTION
GREAT NEWS!
Corridor Schools Capital Project Update - Condor Elementary School
Wild Rose School Division is pleased to advise that the following scope change has been approved by the Government of Alberta for the Corridor School project that was approved as part of the November 1, 2019 provincial capital announcement:
approval of the Condor Elementary School Modernization is rescinded and a replacement (new) elementary school in Condor is approved
The Board would like to again express their sincere appreciation to our partners in Alberta Education and Alberta Infrastructure. With the approval of two replacement schools - high school in Leslieville and elementary school in Condor - the Board can ensure the K-12 students in the Corridor will continue to receive an excellent education in brand new school facilities that support 21st century learning and program delivery.
Corridor Schools Update
https://docs.google.com/document/d/1foe6nUaiyP5ohNiC4zNoqOlezSPHoBSqi6CoNoUuuBo/edit?ts=5e46eab8
PARENT TEACHER INTERVIEWS
GET TEXTS FROM SCHOOL MESSENGER
In an attempt to improve school/parent communications, we now have the ability to send Text Messages to your cell phones through the same system as we have been sending out Emails from School Messenger.  You should have been receiving the school newsletter and a few other notices from this system already. We would like to start sending some reminder messages through texts now. If you do not already receive text messages from the school and you would like to, please follow the instructions below to sign up.
https://drive.google.com/open?id=0B7dWwiPYKYZXTXF5clpzS3Y1VG9rVWNRLXozVmx4bHhqRENB
STEP BY STEP ONLINE CASH REGISTRATION
Step by Step Online School Cash Registration
Transportation Of Students in Private Vehicles
Here is the Wild Rose School Division's Policy on Student Transportation in Private Vehicles.  It is our responsibility as a school to practice due diligence and make every effort to enforce these procedures for the safety of your child.  We would really appreciate your understanding and cooperation in this matter.
Thanks
Administrative Procedure 565
STUDENT TRANSPORTATION IN PRIVATE VEHICLES
Background
Transportation to or from school-sponsored events is to occur in Division owned and operated vehicles whenever possible.  However, circumstances may arise where private vehicles may or must be used to transport a limited number of students.  Principals are authorized to establish school procedures governing the use and parking of motor vehicles by students on or adjacent to, school premises during regular school hours and school-sponsored activities.  Such procedures must comply with existing legislative and insurance requirements.
Procedures
All drivers shall have their own third party liability insurance in effect for a minimum of $1,000,000, although $3,000,000 is recommended. (see Notes below)
The Division's general liability policy provides non-owned automobile basis only on an excess basis. In the event of accident, the volunteer driver's own policy would be the primary coverage, and the Division's policy would only respond once the primary policy limits were exhausted.
All drivers must have a satisfactory driving record for a minimum of 5 years, have an unrestricted license (no GDL) substantiated by a current driver's abstract (within 12 months). Drivers with more than 6 demerits shall be disqualified from driving on school sponsored activities. Initial Criminal Record and Child Intervention Record Checks must be provided, be current within 6 months, and original documentation is to be kept at the school.


Drivers must comply with all applicable laws and regulations at all times.
Drivers shall advise their own insurance companies of volunteer use of their vehicles.
Students shall not drive on school-sponsored activities except in cases of emergency.
Principals shall maintain thorough records including, but not limited to, names of operators and passengers, dates, times, destinations, insurance confirmation, driver's abstract and valid driver's license. For each trip, a copy of the vehicle registration, insurance, itinerary and list of passengers shall be maintained in the vehicle.
Routes are to be predetermined.
Permission slips shall be signed by parents of all participants. Parents of students or students of age of consent riding as passengers shall sign waiver forms 565-1.
Principals have the right to refuse any private transportation request where, in their opinion, it is in the best interests of the student or school to do so.
Principals and/or teachers shall acquaint private transportation drivers with all rules, regulations and procedures prior to the trip.
Accidents or violations shall be reviewed by the Occupational Health and Safety Officer.


Students are not to be transported by the Division in a 15 passenger van due to safety factors. All Division buses transporting students need to be reviewed by the Manager of Transportation Services.
Reference:    Section 20, 45, 45.1 51, 52, 60, 61, 113, 117 School Act
Traffic Safety Act
Student Transportation Regulation 250/98 (amended AR 197/2000)
Use of Highway and Rules of the Road Regulation 304/2002
Section 569, Insurance Act
Reviewed/Revised:             December 2011,     April 2017
If you will be driving students other than your own, or you will be sending your child with someone other than yourself to a school event, you will need to complete the waiver form (referred to above) link attached below as well.
2018-2019 Condor School Staff
Division News