JANUARY 2018 CONDOR SCHOOL COUNCIL MEETING MINUTES
Condor School Council Meeting
January 16, 2018
Call to order: 6:31
Welcome all new and returning parents
In Attendance: Cheryl Kalev, Sara Hay, Sandra Frid, Tessa Rancier, Ashley McKenzie, Chad Judd, Alanna Hoeksma, Tara LaBas, Liz Lozo, Gary Thompson
Last meeting minutes approved by Sandra Frid, 2nd by Stacie Lee
Principal's report:
                ▪Year is flying by and going remarkably smooth
                ▪Currently running 2 boys and 1 girls basketball team
                ▪Large number of students in grade 6 and 7 taking part in archery club
                ▪Farm Safety presentation for all grades next week
▪Skating rink is open and some classes are using it for gym. Students are allowed to skate at noon recess if they have necessary safety gear
▪Winter Olympics start this month- Condor is having a celebration to go alongside. Mrs.O'Brien is organizing the day. February 21, 2018 will have fun "Olympic events" like bob sled pulling and curling
▪Maintenance department has hired Brenda White to be the caretake for Condor on a 2 year contract
Teacher's report:
▪Thank you for attending the Christmas concert, and for all the goodies over the holidays
▪Alien In-line was enjoyed by students. No make-up day available for inclement weather on the last day, unfortunately
▪Literacy program is in full swing and going well. Students are engaged and enjoying daily reading
▪Grade 7 leadership is doing another Hot Dog Day and Nerd Spirit Day on January 25, 2018.
                ▪Assembly and hot lunch (Pizza by PAC) is January 30, 2018
▪February is a busy and short month. No school Feb 2, 19, 22, 23. Weather permitting Olympic fun day will be Feb 21 with details to follow
                ▪Hot Dog day and PJ spirit day on Wednesday February 23, 2018
Trustee's report:
▪2018-2019 calendar is in draft form on the website- any comments or concerns please get them in – next meeting is January 23, 2018
▪Received a letter from Curtis Clarke- proposal is being reviewed, he appreciates the work that has been done, encourages collaboration with municipality and government.
                ▪Annual stakeholder satisfaction survey is coming up- may receive a phone call
▪Governance and priority meeting January 16/17- looking at contract between government and teachers
                ▪Feb 8-10- Public School Board Council meeting
                ▪Bill 28 given Royal Assent on December 15, 2017
▪School tours starting next month- checks to see if annual education plans are being met, also see what needs are in classrooms etc.
Old Business:
                ▪Meet and mingle at school- very low turnout, should the idea be scrapped?
                                Don't scrap it, invite Brad Volkman? Give him a list of questions
                                Try again in spring- hope to get new kindergarten parents
▪From Gary: was the Parent Council Umbrella meeting format good? Yes, interaction was good
New Business:
                ▪Chairperson-  Election. Sandra stepping in for now to fill spot. Need to find parents to help.
                ▪Motion to nominate Sandra Frid for Chairperson by Chad Judd, 2nd by Alana Hoeksma. Voted in
                ▪Motion to nominate Stacie Lee as Vice Chairperson by Liz Lozo, 2nd by Sara Hay
▪Motion to remove Sara St.Marie from Chairperson, put Sandra in place, put Stacie in vice-chair and add Stacie Lee to signing authority by Sara Hay, 2nd Liz Lozo
▪Community response to school reconfiguration: Some planning has started. Any questions for Cheryl that she can pass on?
Has there been any student input (options, labs etc)?
Are there plans to expand Condor property? Loss of outdoor space with new mods coming in is a concern.
 Is there a public discussion board? Yes- on WRSD website/facebook
▪School digital phone policy: feedback? Looks good. There used to be a personal device approval form for parents to sign- this will not happen again.
▪Parent suggestion for spring presenters- magician is running favorite.
▪Overview of new goals are always at the school and copies are available at all times
Adjourned at 7:21pm
JANUARY 2018 PARENT ADVISORY COUNCIL MEETING MINUTES
Parent Advisory Council Meeting
January 16, 2018
Call to Order: 7:23
Attendance: Cheryl Kalev, Sara Hay, Sandra Frid, Tessa Rancier, Ashley McKenzie, Chad Judd, Alanna Hoeksma, Tara LaBas, Liz Lozo
Approval of Minutes: Motion to change end time of last meeting by Sara Hay, 2nd by Stacie Lee (time revised by Tessa Rancier to 7:18 as per notes)
Treasurer's report:
                ▪ Accounts: General- $8123.31; Bingo- $5057.03; Casino- $137.91
▪ Motion to pay $2137.68 for casino advisor & food from general account until casino money comes through by Sara Hay, 2nd by Stacie Lee
▪ Bussing is paid
▪ $116 moved from General account to Bingo account- meals were paid in error from the general account
Fundraising report:
                ▪ 10 volunteers for bingo next week
▪ Asked to have bingo for just grade 5 so money can go toward Camp Goldeye rather than Evergreen. If this doesn't go toward camp it will be used for something else. Cheryl is looking in to the cost for Camp Goldeye
Hot lunch:
                                ▪ Pizza this month, Taco in a bag for February
                                ▪ Booster Juice went really well, Mrs. Rae's class delivered
Old Business:
▪ Cheryl asked for 50/50 cost split for Alien In-Line. Motion for Parent Council to cover the entire cost of $1764 by Sandra Frid, 2nd by Stacie Lee
                                ▪ Cost sharing for performer in spring- PAC believes near the end of the year is better                                      for this event. Cost sharing decision tabled to next meeting
▪ Motion to spend $200 for free hot dog day on February 21, 2018 by Stacie Lee, 2nd by Tessa Rancier
Next meeting March 13, 2018
Adjourned at 7:47
OCTOBER, 2017 MINUTES
Condor School Council Meeting
October 17, 2017
Meeting started at 6:34
Welcome all new and returning parents
In Attendance: Cheryl Kalev, Gary Thompson, Shannon Valentine, Sara St.Marie, Sandra Frid, Chad Judd, Melissa Pittendreigh, Dana Dickson, Stacie Lee, Danielle Peterson, Alana Hoeksma, Liz Lozo
Principal's report:
                Shared development between all teachers for all classes
                Remembrance Day here, not at DT. Eliminates bussing time, and more appropriate
                PT interviews- book your own November 7/8
                Cash online is going well
                Targeted illiteracy instruction
                Lack of EA's= need to support teachers more
                PAT results were good, Cheryl has them if you'd like to see
Teacher's report:
                Turkey trot went well
                Grade 4 field trip to landfill
                Grade 7 leadership working on spirit days and hot dog days
                Halloween party to start at 1:50 October 31, 2017
Trustee's report:
                No recent board meeting because of election- Gary won!
                Umbrella meeting November 7, 2017 (provincial parent council organizing)
                WRSD fee schedule was approved
Old Business-
                Meet and mingle at school- December 5, 2017 at 8:30am, snacks provided
Approve meetings: motion to approve- Liz Lozo; second by Sandra Frid
Adjourned at 7:00pm
Parent Advisory Council Meeting
October 17, 2017
Meeting started at 7:00pm
In Attendance: Cheryl Kalev, Shannon Valentine, Sara St.Marie, Sandra Frid, Chad Judd, Melissa Pittendreigh, Dana Dickson, Stacie Lee, Danielle Peterson, Alana Hoeksma, Liz Lozo
Last meeting minutes approved by Dana Dickson; 2nd by Alana Hoeksma
Treasurer's report:
                Accounts: General- $8348.23; Bingo- $3650.50; Casino- $137.91
                2017 Family dance net- $1839.50
Fundraising report:
                Bingo- less take home revenue
                Casino- less shifts required
Hot lunch:  no news
No Family dance next year
Motion to approve to keep glowsticks from dance ($105) by Melissa Pittendreigh; 2nd by Danielle Peterson
Next meeting January 16, 2018
Adjourned at 7:00pm
SEPTEMBER 2017 MINUTES
February Minutes
February, 2017 Meeting Minutes
November Minutes
November, 2016 Meeting Minutes
October Minutes
September Minutes
May
April
March
January
AGM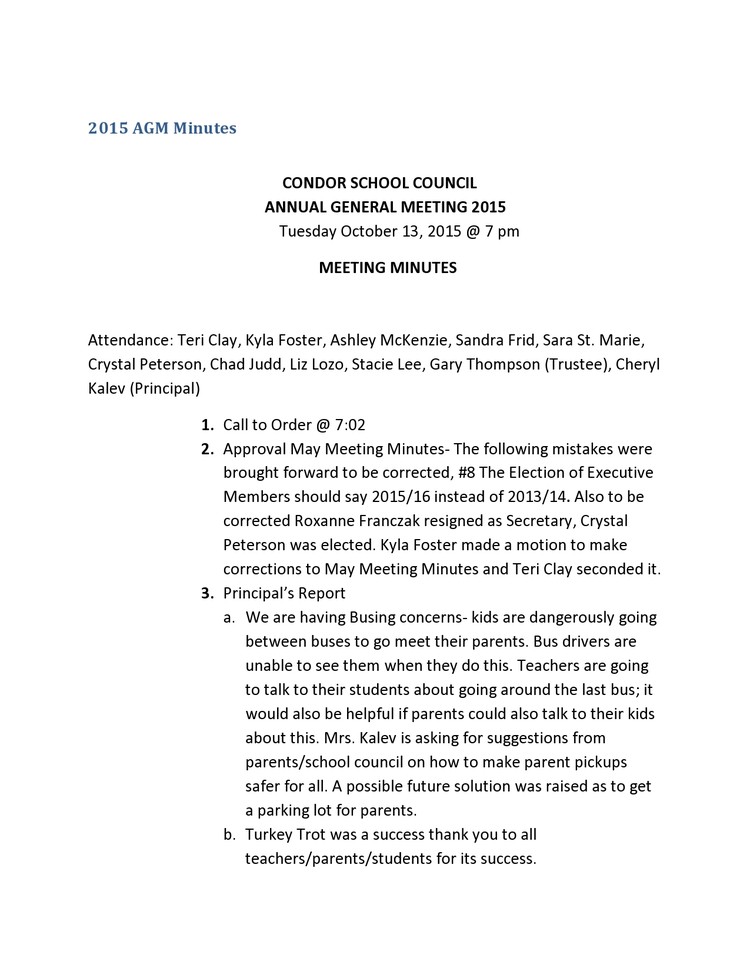 Page 2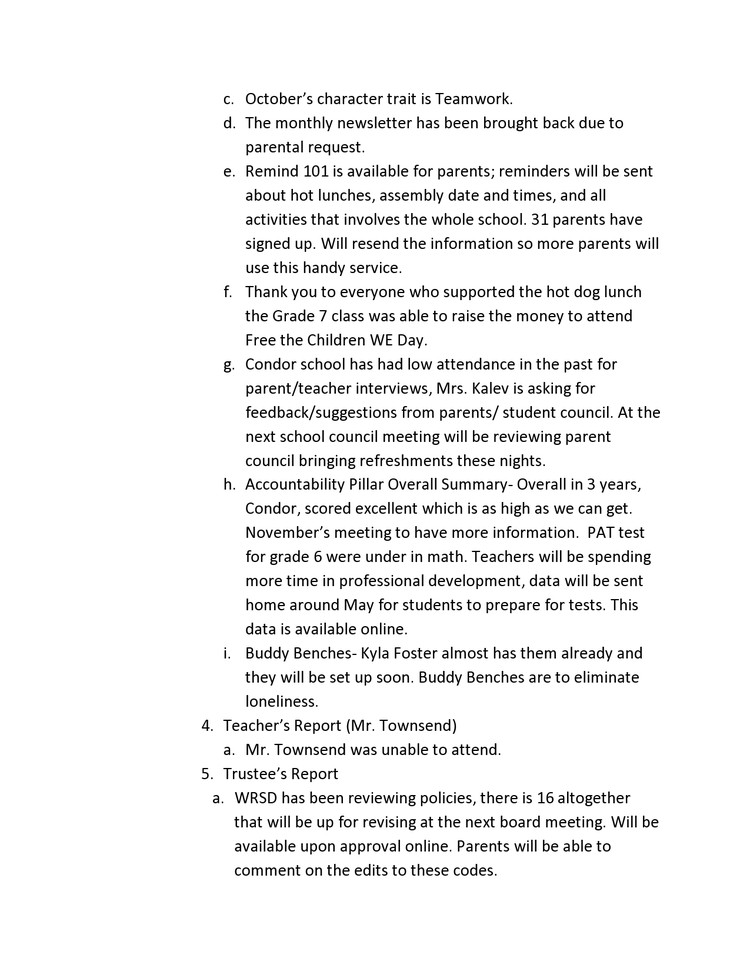 Page 3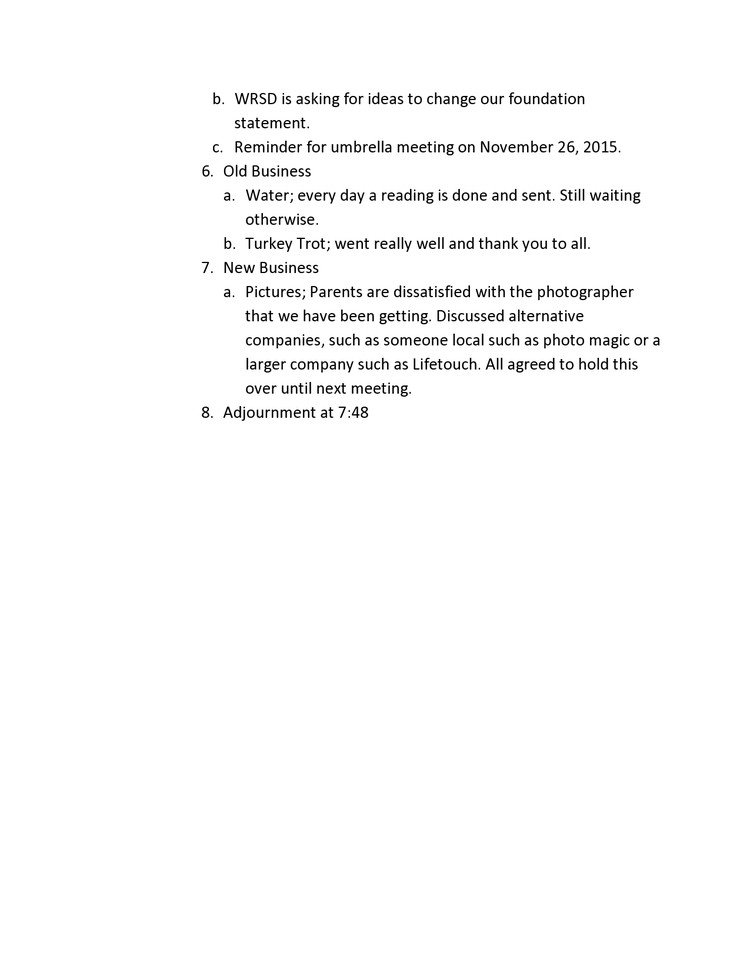 Page 4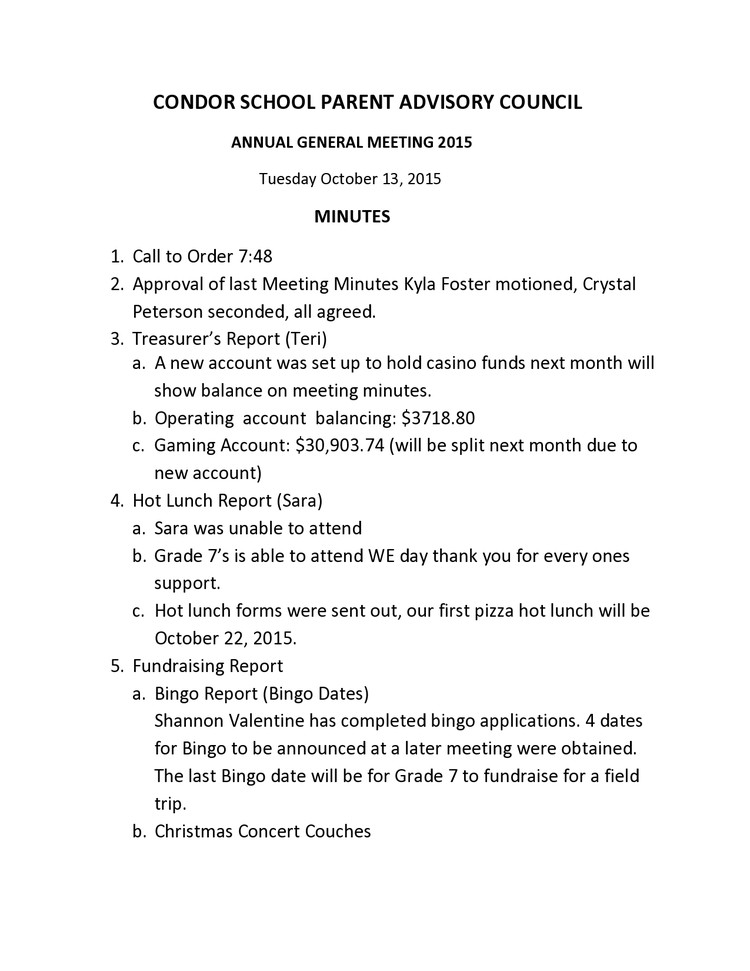 Page 5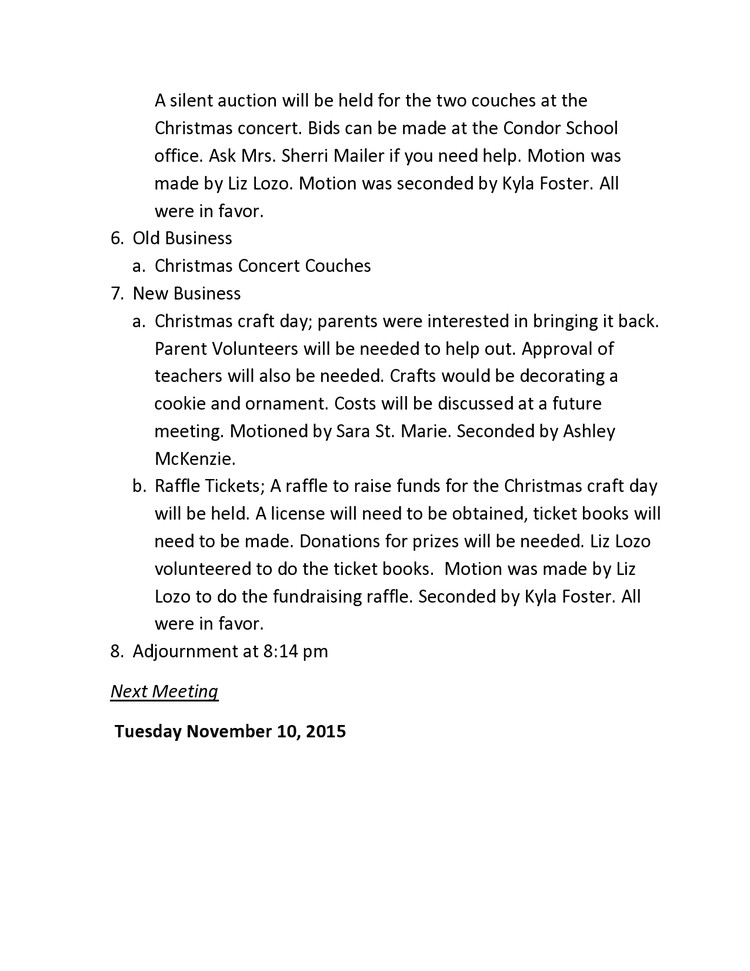 AGM September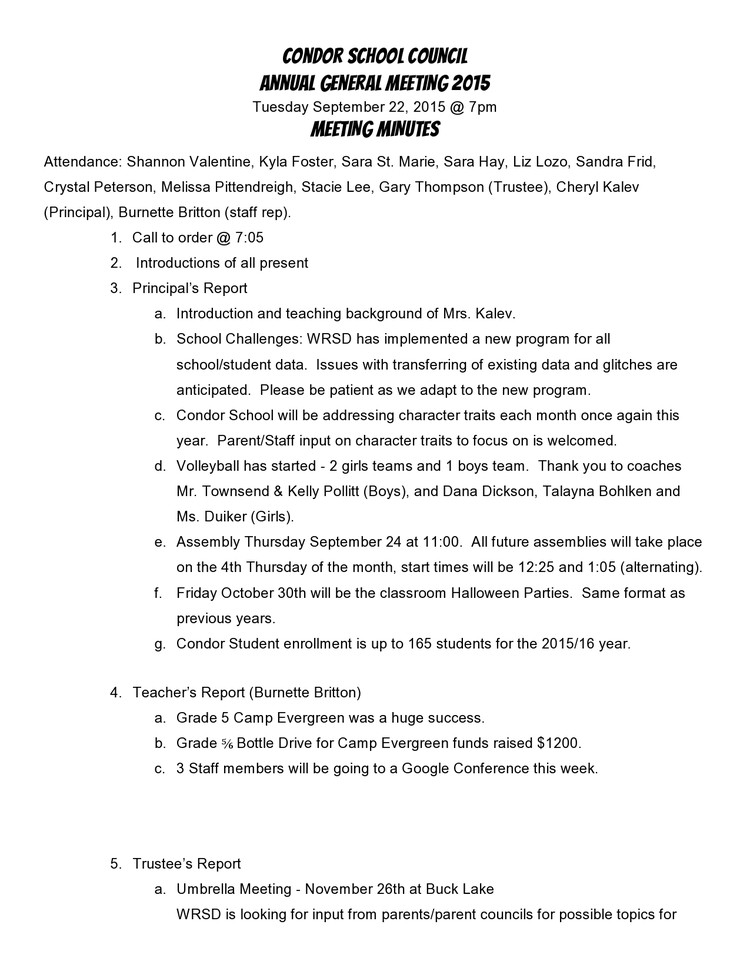 Page 2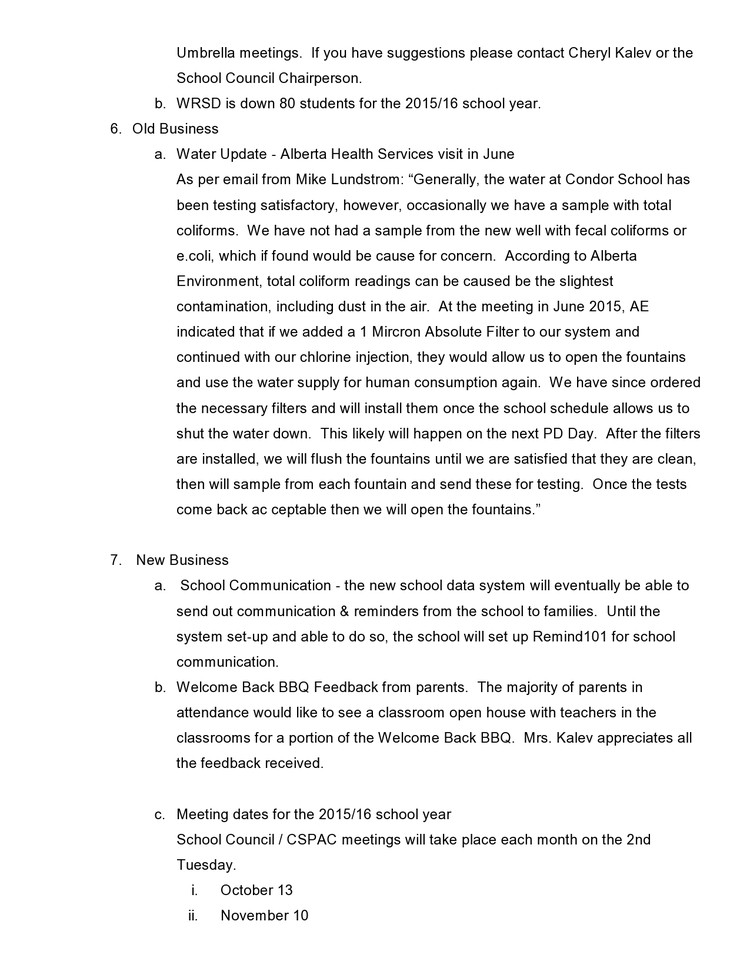 Page 3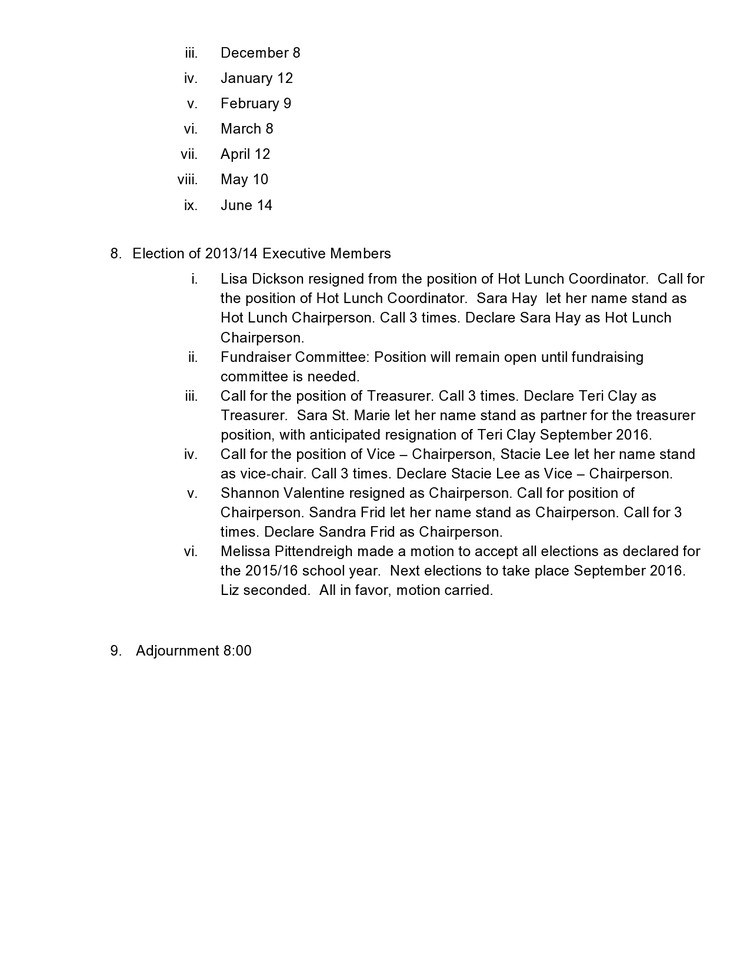 Page 4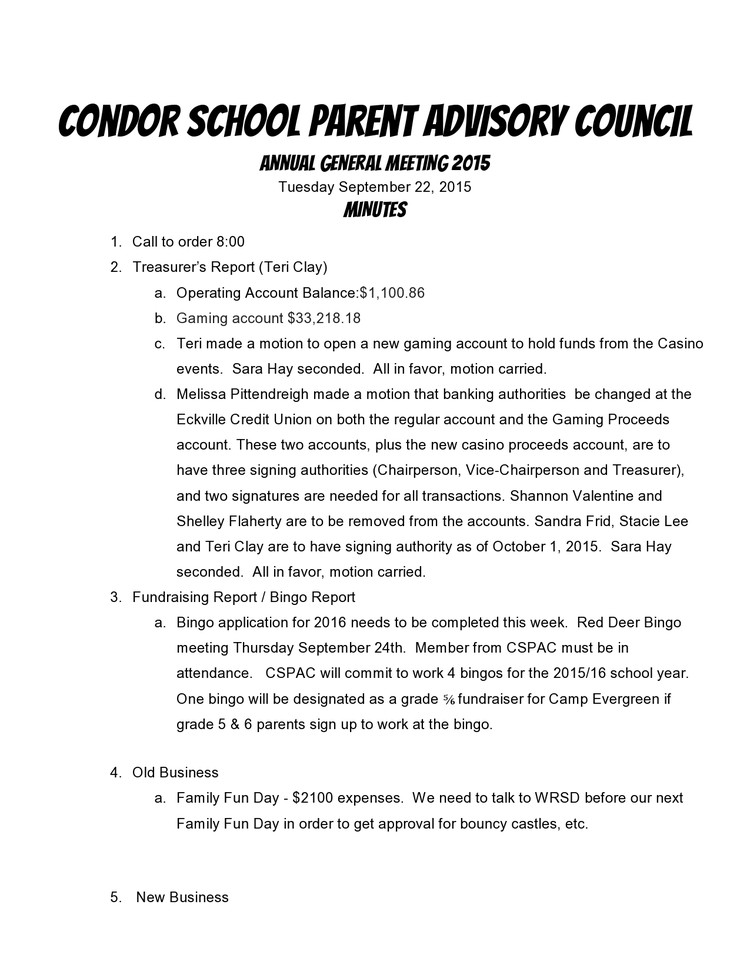 Page 5